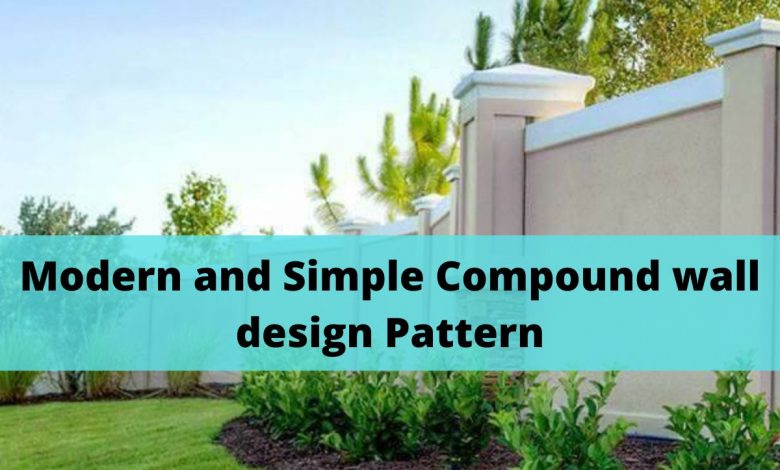 You might be well known about Compound wall design Pattern and their purpose. These are usually built to separate two walls with the permission of both homeowners. Compound walls are somehow very important to keep your place safe and secure. It also represents the overall look of your home so its appearance matters a lot. You really need to think carefully before building compound walls. There are multiple types of compound walls and we are going to study them in detail. So let's have a look at them.
Important things to note for compound wall design pattern
Source: pinterest.com
When you are choosing compound wall design you have to understand some important things and these are as follows:
1- First of all you have to select the right material such as brick, concrete, wood, or metal as per your need.
2- The height of the wall is also a very important aspect to note before making a compound wall. It shouldn't be too tall.
3-The wall should be thick because it can provide more security. So always go for thick walls.
The 4-The foundation should be strong and concrete is the best choice for that purpose. But it's a little expensive.
5- Then you should choose the right gate that isn't very expensive but serves its purpose in the best possible way.
Different compound wall design pattern
Source: pinterest.com
In today's world, you will find a wide range of variety in every single thing. Now there are a lot of different types of compound walls. You can go with wood, concrete, or brick walls. All the types are available in the market. It totally depends on you which material you prefer. You can have cheap to expensive walls. Let's have a glance at different types of compound walls.
Ornamental compound walls
Ornamental walls are very attractive and appealing. In this type first of all a wall of bricks is built upto 5 feet high. Then it gets covered with some cement and paints. When this wall is ready a grill made with stainless steel is installed on it. This will be according to the needs of your safety. 
Stone cladding compound walls:
This is a simple compound wall design pattern that suits your house. A compound wall is a thing that everyone notices when they pass by a newly constructed house. In stone cladding, different elements such as marble panels and vitreous tiles are used as cladding. Big homes and bungalows use stone-cladding walls. First, the wall is prepared with conventional bricks and then these are installed on that wall. 
Security compound wall:
Such walls are usually made to protect private buildings. The compound wall design patterns of these walls are made so stylish and neat. If we talk about the height of these walls then they are usually 7 feet long and a layer of barbed wire is installed on them to keep them more secure.
Precast compound wall
These are probably the best compound wall design pattern because they are suitable for both commercial and residential areas. You don't need to maintain them much and they are long-lasting. You can get these walls in different shapes and colors as per your choice and can be useful for multiple purposes. Precast walls are very safe and rust-free; you don't need to paint them again and again. These can be customized as per your choice and are easy to install.
Masonry compound walls:
Masonry walls are simple compound wall design patterns that are made with bricks, mortar, and many other important elements. This will help to protect the enclosed areas and these are taller in size. The masonry wall is constructed 2 feet deep down in the earth to ensure the space for anchoring. After making the wall it is cemented and painted to give a good look.
Wrapping up:
In this article, we have talked about compound wall design patterns that are important in keeping our commercial, residential and private properties safe. You can choose any of the walls mentioned above. I hope you like this article.
Read also: Top Garage Door Repair Santa Monica B Companies in 2022